Knowledge Base / FAQ

ID: KB00304EN | short link:
How to add music to a Skype call with DirectWIRE?
Have you ever thought about playing audio from your computer, like your favorite songs, and send them to others online? DirectWIRE is a powerful set of functions that are provided with most ESI audio interfaces and among many other things, it allows you to do just that!
In his tutorial, we use Windows Media Player to play music and Skype for the online conference under Windows 10. Obviously you could use other audio playback software as well and the same principle also works with other online call / VoIP / conference software like Zoom, Microsoft Teams or with many live streaming apps.
At the end of this page, you can watch this tutorial also as a video, using our U22 XT. This also works with any other ESI audio interface that supports DirectWIRE.
Windows Sound settings
First go to the Windows Sound control panel (which you can open via File > Windows Audio Settings in the control panel of your ESI audio interface) to the Playback tab, to change the standard device:
In this dialog, you need to select the default playback device for the software that will play the music. Most standard media player apps will use the playback device selected here, also music that comes from your browser like from YouTube, will be sent through the device selected here.
If you have a 2 channel device, you would ideally use the virtual channel device 3 / 4, on a multichannel interface, you can also use a physical channel. Click on the device to select it and then on Set Default. You will now seen a green check mark next to it.
Skype settings
Now got to Skype Settings and open the Audio & Video dialog: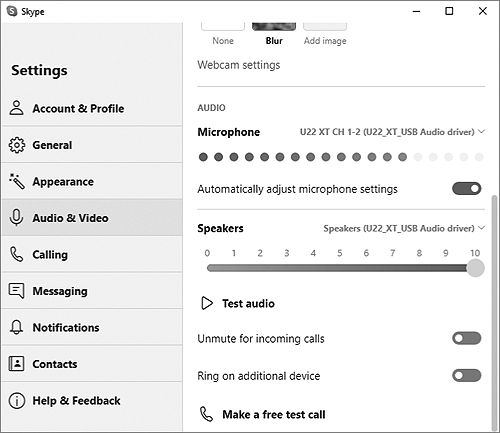 Under Microphone, select the input that you are using for your microphone (so that the other person can hear you talk). Usually that will be input channel 1 / 2. For playback, under Speakers you need to select the main playback device for your audio interface (typically the speaker device for channel 1 / 2).
DirectWIRE settings
Now we need to make the matching connections in the DirectWIRE panel, which you can open from the control panel of your ESI audio interface:
Since the media player we use for playback uses the standard WDM / MME device from Windows and plays the signal via channel 3 / 4 and Skype is using the WDM / MME input on channel 1 / 2, you need to connect WDM/MME OUT 3 to WDM/MME IN 1 and WDM/MME OUT 4 to WDM/MME IN 2.
Also, we want that the microphone signal is sent to Skype as well, so that the other person in the call can hear you. For that you connect the physical input you use (in this example INPUT 1 and INPUT 2) also to WDM/MME IN 1 and WDM/MME IN 2.
If you use an ESI hardware with two channels and DirectWIRE Virtual Channels, it makes sense to enable MIX 3/4 to 1/2 so that you are able to listen to the music you are playing locally as well. On a multichannel hardware this setting is not needed.
Now you can call anyone on Skype and play music with Windows Media Player "into" the call.
Tutorial video
The following video shows you the whole process and an actual Skype call:
Related products

More support pages

Tags





Download